Hello,
Welcome to the inaugural edition of the Stryker Properties Investor Newsletter! Get ready to dive into the latest News and Insights in Commercial Real Estate (CRE). In these uncertain times, we're here to keep you informed, help you navigate the investment landscape, and unleash your full potential as an investor.


Stay in the loop with updates on our portfolio projects as we continue to make strides in the world of CRE. We value your input too! If there's a specific topic you'd like us to cover or any suggestions you have, simply hit reply, and we'll make it happen.

We've also upgraded our communication system to Active Campaign CRM for a seamless experience. If you prefer to step back from the CRE buzz, you'll find an Unsubscribe link at the bottom of this newsletter.
Join us on this exciting journey as we explore the realm of Commercial Real Estate together. Let's empower your investment goals and make the most of this opportunity-filled market.
 MARKET SNAPSHOT
OPINION


Recently, during a conversation with a business associate from London, we shared a laugh when he referred to the US as the best house on an ugly street. As we delved deeper into the statement, we realized there may be some truth to it. While the world grapples with various challenges, the US has managed to weather the storm and stand strong.
The global post-pandemic recovery was abruptly interrupted by the Ukraine war, causing energy prices to soar and contributing to the rising inflationary pressures felt worldwide.

Germany slipped into recession, the UK battles political instability and record inflation, China struggled to restart after a prolonged shutdown, and Europe as a whole continues to bear the burden of high energy costs. Amidst this uncertainty, countries like the US, Mexico, Japan, and India emerge as bright spots.                                                           
INSIGHTS


The Dallas-Fort Worth region added a total 172,506 new residents, growing by about 2.2% between July 2021 and July 2022, according to the county population estimates from the U.S. Census Bureau released in late March.

All 10 counties in Dallas-Fort Worth saw population increases over that year, though the influx of new residents was heavily weighted toward suburban areas. Collin & Denton together received a whopping 46% of all residents who moved to DFW.

CONCEPT


Revving Up Your Investment Portfolio: The Rise of Automated Tunnel Car Washes
The emergence of Millennials and Gen Z, who are driving cars and embracing monthly subscription models for unlimited car washes, has transformed the industry.

This shift has provided car wash companies with predictable revenues, making them attractive to private equity investors seeking cash flow and appreciation.        
CHART OF THE DAY


The consumer price index in May showed a 4% annual increase, the lowest in over two years, according to the U.S. Bureau of Labor Statistics, but economists remain concerned about persistently high "core CPI" excluding energy and food prices.

While categories like shelter, motor vehicle insurance, recreation, household furnishings and operations, and new vehicles experienced notable annual increases, categories such as airline fares, car and truck rentals, citrus fruits, fresh whole milk, and used cars and trucks saw deflation over the past year. 
PORTFOLIO UPDATE


Introducing Opal at Kyle: A premier Class A multifamily development by Stryker in Kyle, TX. With groundbreaking in 2021 and completion expected by Christmas 2023, this $60 million project is set to redefine luxury living.

Preleasing begins September 2023. Watch our latest drone video for an immersive glimpse into Opal at Kyle's mesmerizing architecture and surroundings. Stay connected for updates and leasing opportunities.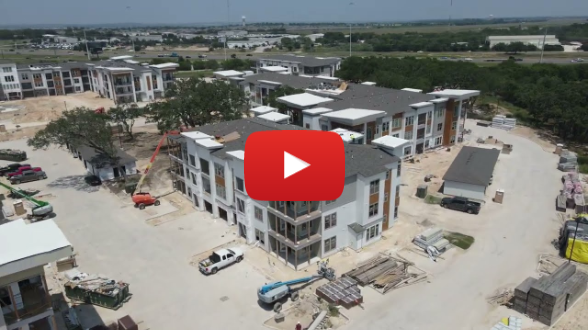 LIFESTYLE


SmartAsset recently conducted a study to determine the safest cities  in the United States.

Analyzing data from 200 large cities, they considered metrics such as violent crime, property crime, vehicular mortality rate, drug poisoning mortality rate, and excessive drinking.

The findings revealed that Texas cities performed well in terms of safety, with four of the top five cities located in the Lone Star State. Interestingly, the top-ranked cities were also relatively affordable, with housing costs being less than 20% of median household income in most cases.

Additionally, among cities with over 1 million residents, Los Angeles emerged as the safest.
 CRE NEWS
 "Unexpected Boost"
U.S. retail sales unexpectedly rose in May, driven by increased purchases of vehicles and building materials. Overall sales grew by 0.3%, with online retail and food services seeing gains. However, lower gasoline prices led to a decline in sales at service stations.
 "Multifamily Owners Demand Rate Cuts, Not Delays"
Federal Reserve Chair Jerome Powell emphasized the goal of reducing inflation despite pausing monetary tightening. Concerns arise over the 10-year Treasury yield, which is expected to increase significantly and affect loans and sales more than the Fed's funds rate.
 "Eviction Filings Surge Above Pre-Pandemic Levels In Cities"
Eviction filings surge by over 78% nationwide, surpassing pre-pandemic levels, while certain cities' protections mitigate evictions by 30%.
 "$64B Distressed CRE Loans Shake Retail and Office Sectors"
Distressed CRE assets reach $64B in Q1 2023, with Veritas Investments facing delinquent loans on a significant portion of its San Francisco holdings.
 "Austin's Manufacturing Surge: Tesla and Samsung Drive  Growth"                    
Austin, Texas sees population growth driven by a vibrant manufacturing sector, including Tesla's "GigaTexas" facility and Samsung's semiconductor plant. Samsung's upcoming semiconductor chip fabrication plant is expected to offer significant opportunities for local companies and suppliers.
Your Feedback is important to us, Today's Newsletter is
Sent to: sri@strykerprop.com

Unsubscribe

Stryker Properties, 6521 Hickory Hill Dr, Plano, TX 75074, United States